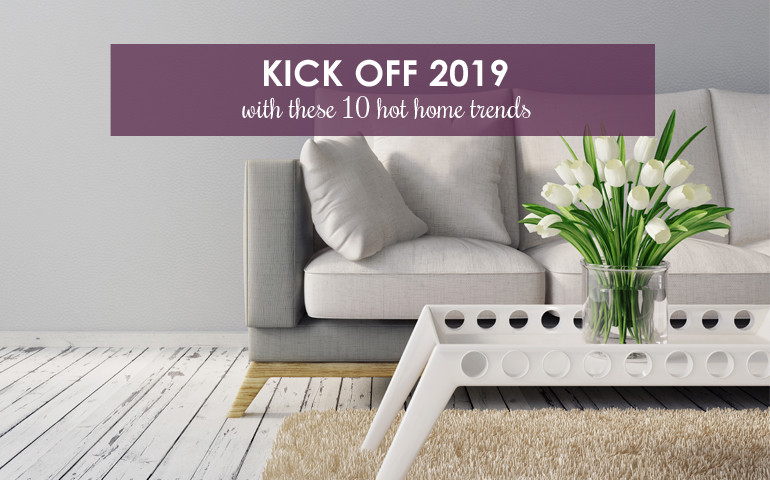 Kick Off 2019 With 10 Hot Home Trends
Now that the new year has arrived, many of us are busily plugging away at our resolutions. You know, eating healthier, spending less and making a few much-needed style upgrades around our homes!

If home renovations were not on your list of to-dos for 2019, we have a feeling they soon will be! This year offers some home trends you simply must try. Here are 10 of our favorites for 2019:

1. Florals
From fabrics to wallpapers to accent pieces and more, this year is going to be all about the florals. Why not bring one of these bold patterns into your home this winter? Perhaps it will feel so much brighter, you'll forget about the cold until spring arrives!

2. Backsplashes
Ok, we know that customized backsplashes make the list pretty much every year. But 2019 is proving to be a little different. Subway tile no longer reigns as the only way to add some personalization to your backsplash. Bold patterns are creeping up the walls in this year's trendiest kitchens. Join this colorful movement to bring more than a splash of color to your kitchen!

3. Artisan items
Without a doubt, smart home technology ruled when it came to holiday shopping. But quieter shopping seasons bring simpler décor trends in the new year. By all means, use your latest home technology to simplify your daily life. But complement those sleek speakers, thermostats and more with hand-crafted accent pieces to help balance out your home.

4. Natural materials
Don't stop with accent pieces when it comes to bringing organic items into your home in 2019. We're not talking about making a few extra trips to Whole Foods, either. Make this your year to bring natural elements like granite or stone into your home décor.

5. Mixing textures
If you're beginning to feel like 2019 will allow you to bring some variety to your home, you're exactly right! The mixing and matching continue with textures as well. From textured wallpaper to combinations of wood, brick, stone or other materials, 2019 is giving you options when it comes to your décor.

6. Bolder colors
In the past, it has been popular to keep a room mostly neutral, but to draw attention to a particular wall with a bold pop of color. In 2019, you can say "farewell" to that accent wall and bring those bold colors to all the walls of a room. Bold colors are in all around this year!

7. Statement ceilings
Although accent walls are out for the new year, you might want to raise the roof on a trend that could be replacing them. Ceilings that stand out are a hot home trend for 2019. So, if you're not sure where to start when it comes to infusing your home with the latest trends, just look up.

8. Black and white
Love a little contrast in your home? One 2019 design trend is encouraging you to pair white and black in your home design. With the recent popularity of white cabinets, the kitchen might be the perfect place to start when it comes to this design trend.

9. Eco-friendly furnishings
Sustainability is going far beyond long-lasting LEDs when it comes to updating your home décor. Reclaimed and recycled materials can easily become showpieces for any sort of style. Look for eco-friendly products when you're making upgrades in 2019.

10. Vintage lighting
LEDs will offer long-lasting light and savings for your home. But in 2019, the lighting trend is moving toward placing those upgraded bulbs into vintage fixtures. This popular trend is all a part of mixing textures and more this year.

These 10 popular home trends are sure to help you kick off your 2019 home decor resolutions with sheer style. Good luck implementing one or all of them!