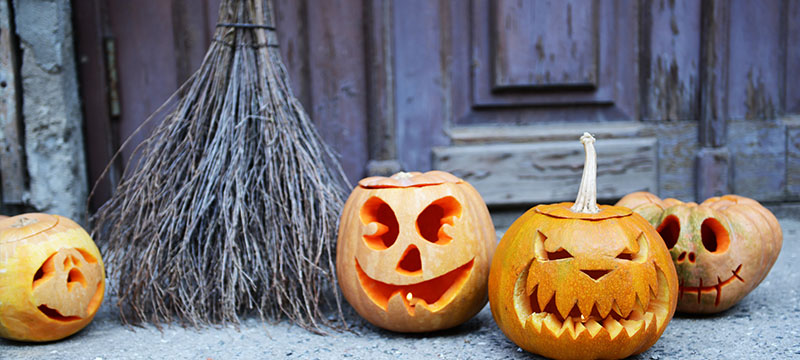 20 of the Best Halloween Attractions in Pittsburgh
Ghouls, goblins, and ghosts… oh my! If you have yet to get your fill of all the spooky and scary things October is known for, we've got good news for you… there's still time! Spend the next two weekends marching in costume parades, touring haunted houses and carving pumpkins. Whether you're looking for a fun, family friendly event or a super scary, "adults only" experience, you'll find it below.
Family Friendly Activities
Get the whole family in the Halloween spirit by attending one of these family-friendly events!
1. Halloween Mayhem
The 7th annual Halloween Mayhem has many activities for you and your family to enjoy and participate in! From a costume parade to live performances and way too many games to count, you are guaranteed to have a wonderful time.
Where: Kelly Strayhorn Theater 5941 Penn Ave
When: Saturday, October 24th from 12-4 PM
2. Ultimate Pet Costume Contest
Who wouldn't love seeing a dog in a pumpkin costume?! Better yet, who wouldn't love to participate in a pet costume contest?! This year Steel City Pet Expo is hosting a wonderful event full of cuddles and cuteness. Bring your furry best friend along to celebrate Halloween!
Where: Monroeville Convention Center - 209 Mall Plaza Boulevard Monroeville, PA 15146
When: Saturday, October 31 9-5 PM
3. Halloween Party in the Park
This Halloween party has it all! Bring the entire family to Pine Park to enjoy ghost stories, a hayride, crafts, a bonfire and, of course, a costume parade!
Where: Pine Park Gazebo
When: October 24th 1:00-4:00 PM
4. Monster Mini Golf
Monsters, ghouls and ghosts wanted! Spend your Halloween at the Monroeville Mall for this spooky and exhilarating mini golf course! The golf course is lit by a black light, making it even more exciting and unique. Test your skills and see if you have the courage to make it through this spooky golf course.
Where: 3813 William Penn Hwy. Monroeville, PA 15146
When: Monday- Thursday 2-9 Friday 2-10 Saturday 12-10 Sunday 12-8
5. ZooBoo
Dress up and wander through the Pittsburgh Zoo and PPG Aquarium collecting sweet treats and checking out the animal exhibits. The costume parade starts at 12:30PM at the PPG Aquarium patio by the polar bear exhibit.
Where: Pittsburgh Zoo and PPG Aquarium
When: October 24 and 25 from 10AM – 3PM
6. Owl'oween! Pumpkin, Owls and Bats!
The Children's Department at Northland Public Library is an exciting place to be! Bring your family to create fun crafts, walk in a costume parade, play games, eat yummy treats and more! There will also be a costume parade through the library, so be sure to wear your favorite costume!
Where: Northland Public Library-Children's Department
When: October 29, 2015 6:00-8:00 PM
7. TRUCK or TREAT
TRUCK or TREAT is a unique and fun way to celebrate this time of year! This event is exciting for all ages and free to attend. There will be food trucks lined up throughout the park, music and live entertainment for everyone! Kids can get a balloon from Debo the Clown, have their faces painted and go trick-or-treating! Adults can enjoy music by DJ Ronman and purchase drinks at select booths! Dress up and bring your friends, family and pets for this exciting and entertaining day!
Where: Schenley Plaza 4100 Forbes Avenue, Pittsburgh PA 15260
When: October 24th 1:00-8:00PM
8. Gateway Clipper - Halloween Monster Party
Sail the open seas with some of the city's spookest monsters on the Gateway Clipper's Halloween Monster Party.
Where: 350 West Station Square Drive Pittsburgh, PA 15219
When: October 24th Trip #1: 10:00-1:00PM Trip #2: 1:15-3:00PM
9. Carnegie Science Center - Family Halloween Laser Show
Do the Monster Mash during this spooky laser show! Kids will love it!
Where: 1 Allegheny Ave, Pittsburgh, PA 15212
When: October 24th, 25th, 26th, 30th and 31st (visit website for times)
10. Phipps Conservatory - Halloweens Happenings
The boo-tiful glassshouse features fun Halloween activities for all ages! Create your own spooky potted plants, check out the carved pumpkins and nom on some tasty treats!
Where: 1 Schenley Drive, Pittsburgh, PA 15213
When: October 30th 4:00-8:00PM
11. Children's Museum - Boo to You Too
So much for the kiddos to do! Trick or treat through the musuem, decorate treat bags, have your face painted, make Halloween art, hear a Halloween story and much more!
Where: 10 Children's Way, Pittsburgh, PA 15212
When: October 30th 5:30-9:00PM
12. Aviary Owl-O-Ween
Wear your costume (bird-themed is always welcomed!) and get ready to have a hoot! Make crafts, meet owls and take pictures with some cool birds!
Where: 700 Arch St, Pittsburgh, PA 15212
When: October 24th and 31st 11:00-3:00PM
Adults Only!
Get a babysitter because these attractions are too scary for kids!
13. Haunted Hills Hayride
Hold onto your seat, you're in for one scary ride! At the 16th annual Haunted Hills Hayride, you'll never know what's around the next corner but we bet it'll give you nightmares!
Where: 500 Mosside Blvd., North Versailles PA 15137
When: October 23-25 and October 28-31 between 7PM and 11PM
14. Hobgoblin Hikes
This half mile hike takes you through mazes and haunted cemeteries. On the way, you'll past over 100 goblins, ghouls and monsters!
Where: Northmoreland Park
When: Friday, October 30 from 7PM – 9PM
15. Hundred Acres Manor
Named the 2015 Best Halloween Attraction by the Travel Channel, this haunted attraction features six outrageously terrifying attractions. You'll come face to face with zombies, creatures, monsters, ghosts and things you only see in your worst nightmares.
Where: 1 Hundred Acres Drive, Bethel Park PA 15102
When: October 23 – November 1 from 7PM – 11:30PM
16. The Scarehouse
The Scarehouse consistently tops national lists as one of the best haunted houses and there is good reason for that! This haunted attraction takes it one step further with their "The Basesment" attraction which actually requires you to sign a waiver before entering!
Where: 7340 Butler Street, Pittsburgh PA 15206
When: Thursdays – Sundays in October from 7PM – 12AM
17. Kennywood Phantom Fright Nights
Okay, we all know Kennywood is full of dreams and Potato Patch fries, but in October it's a prime location for spooks and scares!
Where: Kennywood
When: Every Friday and Saturday in October
18. Zombies of the Corn
Love zombies! Then, this is for you! The main attraction: Zombie Shoot. That's right, you get to fight off zombies with paintball guns.
Where: 282 Rochester Road, Freedom PA 15042
When: Weekends until November 1
19. Haunted Pittsburgh Tours
Discover some of the most haunted places in downtown Pittsburgh during this guided walking tour. You'll visit the haunted areas in person as you learn about their ghost stories.
Where: Downtown Pittsburgh
When: Fridays and Saturday at 7PM
Post Halloween
For those who just can't get enough of Halloween!
20. Great Pumpkin Smash
Halloween may be over, but there is one last thing we all still have to do. Throw away our pumpkins. Instead of throwing your jack-o'-lanterns away in the garbage, make it a fun filled activity for the kids. Come to the Science Center and roll them off the roof or join the Smash-ologists for the annual Great Pumpkin Smash!
Where: 1 Allegheny Ave, Pittsburgh, PA 15212
When: November 7th 10:00-5:00PM