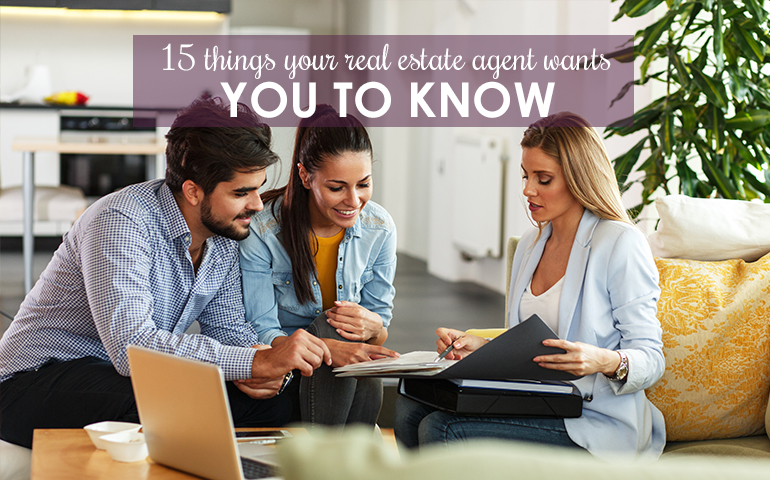 15 Things Your Realtor Would Like You to Know
When you find the right real estate agent, you're entering into a great partnership with someone you can trust. Your agent will share as much information with you as possible. But, it can help to go into your partnership with some things already in mind.
Here are 15 things that real estate agents wish buyers and sellers knew:
This could be a long process. Certainly, your real estate agent would love to tell you that you will be able to buy or sell a home in a short amount of time. And, sometimes that can happen. But, it simply doesn't always. If you go into the process knowing it could be a long one, you'll be prepared for whatever comes your way.
It helps to have a team on your side. It feels great when you find the real estate agent who is right for you. It feels even better when you have lined up other trusted team members to buy or sell your home. This can include your lender and other service professionals who'll make the process easier for you.
Your agent can help you build that team. Many experienced agents have a list of trusted lenders, contractors and other professionals that they would love to share with their clients. If you need outside help with any part of your buying or selling process, be sure to ask your agent for suggestions.
Listing photos are important, but they are not everything. You can tell a lot about a home in listing photos. But, if you happen to love a home's description, give it a chance. Even if the listing photos are less than impressive. You wouldn't want to miss out on the right home because you let some poor listing photos scare you away.
The early bird really does get the worm when it comes to looking at a home. The sooner you're able to visit a home once it hits the market, the sooner you'll be able to make an offer and have it accepted. The longer you wait to go see a home, the more of a chance you give other buyers to beat you to the punch.
There are greater home improvements than granite. Speaking of getting scared away, updated appliances and granite countertops may be what you picture in your dream home. But if a home you like doesn't have those updates, consider others that could bring you more value. Energy-efficient appliances can provide long-term savings that granite countertops simply cannot!
You do not have to go to open houses without your realtor. Since open houses are a more casual way to view homes, it may seem like you wouldn't want to bother your real estate agent to take you to one. But, you can find out more information if you bring your trusted agent. Besides, showing clients potential homes is never a bother.
You don't need the listing agent to let you into a home. If you are interested in seeing a home, you can rely on your own real estate agent to show it to you. There is no need for you to contact a home's listing agent to see it. Simply tell your real estate agent!
Online estimates are not accurate. Don't believe everything you read when it comes to a home's value. While online calculators can offer an estimated value of your property, they simply cannot provide an accurate assessment of a home's worth. The best way to find out is to have your real estate agent complete a comparative market analysis that will compare your home to others like it that have recently sold.
You should visit a home at various times of day. If you would like to know what a neighborhood is truly like, you cannot visit a home at only one time of the day. Go see a home during the week and on the weekends. Go in the evenings too. You'll get the most accurate picture of a neighborhood by visiting!
You can find out a lot about a neighborhood online. And you thought your favorite online map service was only good for road trips! Doing some online research can tell you what amenities a potential home is near. Find out about restaurants, recreation and retail services that may be near your potential new neighborhood.
You shouldn't buy those large appliances before you close on a home. The reality is that a lot of things can affect your potential for getting a loan. Even if you have loan preapproval, opening a new line of credit or spending a large sum of money at once could hurt your chances of final loan approval. Just wait until those new home keys are in your hands.
You shouldn't make any career changes before you close. Again, many things can impact your loan approval. You want your income to be consistent as you're on your way to the closing table. If possible, you may want to hold off on changing or quitting your job until after you're in your new home.
You can save money if your closing date is at the end of the month. If your closing date is at the beginning of a month, you may pay more in interest fees at the closing table. If you have an option to close toward the end of the month, you actually can pay less for a new home.
If you have a question, please ask! Your real estate agent will be happy to share as much information with you as possible, but if you feel like there is something else you would like to know, just ask!
Are you ready to enter into a partnership with a real estate agent you can trust? Contact an agent at Berkshire Hathaway HomeServices The Preferred Realty today to get your buying or selling process started.