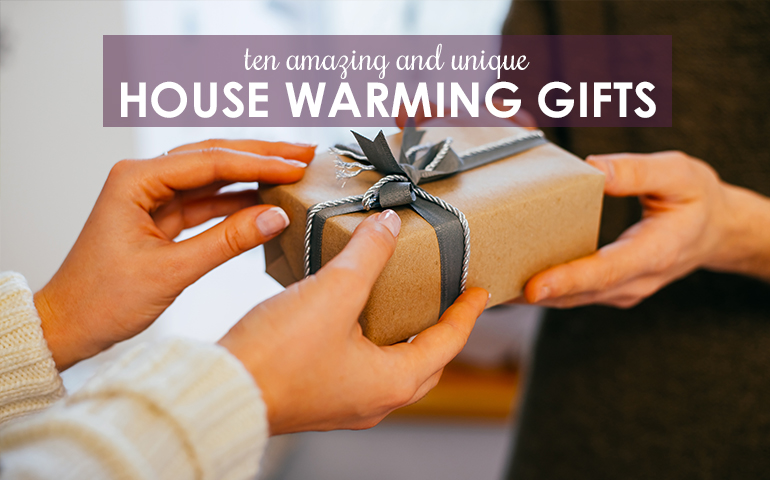 10 Unique Housewarming Gifts to Welcome New Neighbors
As the holidays approach, now is a great time to stock up on gifts, right? Of course, it is! But, this year, try to think beyond the seasonal holidays. Maybe you know someone who has just moved into a new home. Maybe you know someone who is searching for that perfect place. Maybe you have a friend who is hoping to buy a home in the next year. Why not use this holiday season of sales to find those friends or family members the perfect housewarming gift?
Here are 10 unique gifts to wow your friends, family members or new neighbors into a new home:
An Address Stamper
Anyone living in a new place could use this unique gift. If you know someone who is moving into a new home, give them the gift of being able to easily address their envelopes. We can't think of any new homeowner who couldn't use a little help in remembering their new address!
A Personalized Door Mat
What better way to welcome someone to their new home than by helping them welcome all of their other visitors? A personalized door mat is a great housewarming gift that will add instant personality to any home.
Something for the Kitchen
This housewarming gift takes your traditional favorite recipe or home-cooked meal one step further. Instead of just bringing over a meal, take over a favorite cooking tool to help make the meal! Here, we're thinking a pan or cooking utensil could be the perfect way to welcome someone into their new home.
A Grilling Gadget
Don't cook much inside? You can personalize a grill tool that will have your new neighbors thinking of you at every barbeque! While these summertime tools are no longer in season, you may get a great deal on this fun way to welcome someone to a new neighborhood.
Think Drinks
Well, if cooking isn't your forte at all, going the beverage route may be the best way for you to welcome new guests. But, don't just bring over the standard bottle of wine. That may only last for an evening of entertaining. Instead, customize a bottle opener, so that each and every time your friends open a new bottle, they think of you!
Scented Hand Soap
If you would like to forgo the food and drink route, hand soap is a great housewarming gift, too. Right now is the perfect time to stock up on seasonal scents you can share with new neighbors or anyone moving into a new home.
A Cozy Blanket
Tis the season for snuggling and, really, you can never have too many throw blankets. So, if you're stumped on the perfect housewarming gift, take advantage of holiday sales and get some cozy throws!
A Log Carrier
For any new homeowner with a wood-burning fireplace, a log carrier is a must! But, it is not something you may automatically think to buy. So, if you've got friends or family members that are moving into a new home with a fireplace, think for them and get them a log carrier with a bundle or two of wood to get them started!
A Start to Family Fun
Being in a new home is all about making memories and family game nights are a great way to do just that. Facilitate those memories with the gift of a family-favorite board game and snacks. But, be careful. Your family may need to be up to the challenge of playing the first game!
A Purchase for the Pets
If you're still not sure what to get a new homeowner, get them something for their pets. Welcome pets to their new place with a toy or treat. Remember, happy pets = happy homes!
These housewarming gifts are sure to bring a unique touch to any housewarming party or friendly visit to a new home. If you want to stand out, stock up on one of these 10 housewarming gifts today!