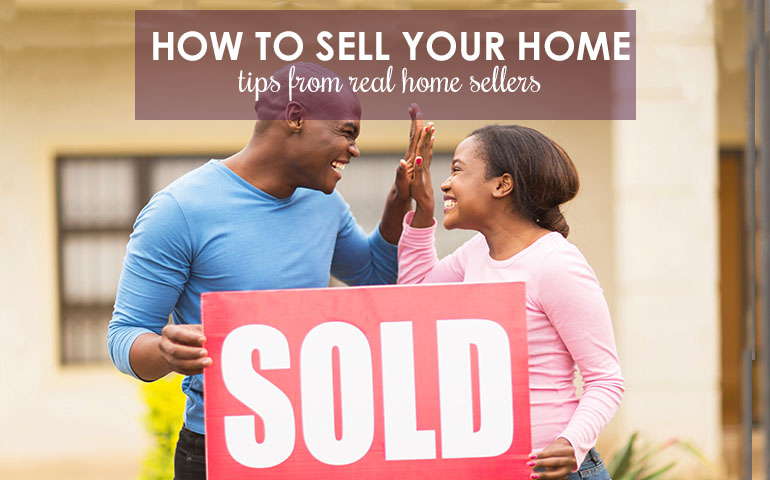 10 Tips to Help Make Your Home Sale Go Smoothly
How many times have you said, "I wish I would have known…" after you've done something for the first time? Well, if you're selling a home for the first time, there is no need to wish that you would have known a few things that can make the sales process easier. We've compiled a list of tips from home sellers to pave your way to a successful home sale.
Here are 10 pieces of advice to help make your home sale process go smoothly:
1. Make a daily cleaning list. When you're selling your home, you never know when a showing may come up. If you designate Mondays for dusting or cleaning the bathrooms, you will have peace of mind knowing your home is clean whenever buyers may stroll through. An added piece of advice here? Making the beds should not go on your "once-a-week" cleaning list. That chore has got to be done daily!
2. Remove family photos. We know, it's no fun to live in a home that looks bare or unfamiliar. But, frankly, it's no fun to look through a home where someone else is obviously living if you're trying to envision yourself living there. If you're selling a home, take down your family photos while your house is on the market.
3. Stage your home. You don't have to put much money into the home you're trying to sell to help buyers envision themselves living there. If you loved your dining room as a child's playroom or made a home office out of a spare bedroom, try dressing those rooms up a bit for buyers to tour through. Keep in mind that your needs or tastes may not suit every buyer.
4. Take professional listing photos. Even if you are the best selfie taker among all of your friends, when it comes to selling your home, your selfie skills won't measure up in listing photos. Show your home in the best light by allowing professionals to take care of this home-selling task.
5. Keep up with the lawn care. Mow the grass and trim the shrubs regularly when your home is on the market. The last thing you want to do is to attract buyers with awesome listing photos, only to turn them away with poor curb appeal. Keep your lawn pruned throughout your home sale.
6. Have a back-up plan when it comes to moving. Your home may sell faster than you think. In this case, where will you go? Talk with friends or family members to make sure you have a place to stay if your home sells before you close on a new one. Also, don't forget to check into storage options when you're trying to sell a home.
7. Hire a real estate agent. At this point, it's probably obvious that you need one, right? Sure, you may be able to sell your house on your own. But, you'll also be dealing with scheduling every showing, handling all marketing, negotiating the price and approving all parts of the closing process—all on your own. Do yourself a favor and leave those tasks up to a professional who will represent your best interests.
8. Leave during showings. Don't be that homeowner that hovers over potential buyers. Yes, it may be cool to find out what aspects of your home buyers are drawn to. But, it may not be so fun to see which features don't impress buyers so much. Although you may be a great resource when it comes to your own home, leave during any showings and allow your real estate agent to answer any buyer questions that come up.
9. Hire a home inspector. During the closing process, buyers will bring in a home inspector to scour every inch of your home to make sure it is move-in ready. Instead of being surprised by what their inspector may find, hire your own home inspector to review your home before you list it. Then, you'll have peace of mind when a buyer's inspector tours through.
10. Don't take things personally. From the time you set the price of your home until the time you hand those keys over to their new owners, your own opinions about your home may differ from what others—buyers, appraisers, inspectors, etc.—may think. Try to keep your end goal in mind when someone has a difference of opinion during the home sale process.
Selling a home can be a daunting task. But, when you take the advice of seasoned sellers, it becomes a little easier. If you're planning to sell your home, take a little more advice from a trusted real estate professional. Call Berkshire Hathaway HomeServices The Preferred Realty to get started today.