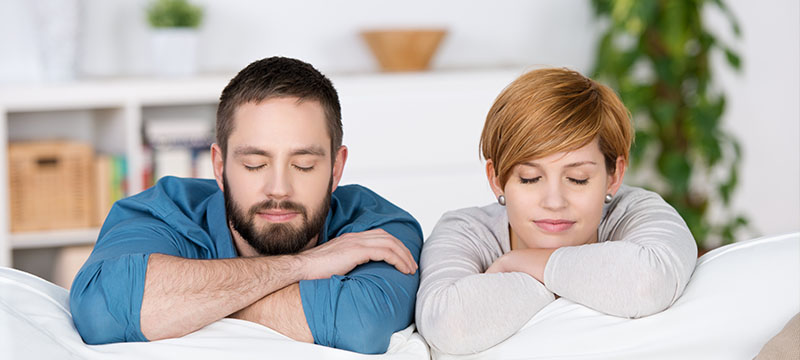 "Is It Over Yet?" and Other Thoughts You'll Have When Selling
The election is over and if you've stepped into any retail store post-Halloween, you may think that the holidays already have arrived. So, while political thoughts have ended and a few holly jolly thoughts may be floating through your mind at the moment, if your home is on the market or you're preparing to sell your home as we enter the holiday season, your mind is probably being flooded with a few different kinds of thoughts. Here are 10 things you may be thinking if you're trying to sell your home this season:
1. I'm living in a museum! When your home is on the market, it is important to keep it in pristine condition. And, that goes from the outside in. There should be no leaves on the sidewalks, driveway or at the front door. Inside, countertops must be clear, closets must be organized and beds must be made. Basically, you need to be able to walk out of your home at any given minute in case a potential buyer wants to come in to browse.
2. My home is certainly worth more than that one! Having pride in your home is a great thing. But, that pride cannot get in the way when it comes to setting a reasonable price. An experienced professional real estate agent will do a comparative market analysis that will consider your home's worth, along with the worth of other similar area homes. While you may think your home is worth the most, your agent will help to make sure your pricing is competitive.
3. I'm not even going to respond to that low offer! This goes hand-in-hand with pride in your home. You may have to put on a rough exterior when it comes to negotiating. Buyers want to strike the best deal they can when it comes to your home. This may result in an offer you can't even bear to consider. In this case, rely on your agent's experience to deal with low-ball buyers.
4. This is taking forever! No one ever said the home-sale process was pretty. Sure, it can be quick and relatively painless; but, depending on the market and buyers in your area, selling your home could take longer than you may expect. Patience with the process and trust in your real estate agent are a must when it comes to selling a home.
5. No one will notice that weird noise the refrigerator makes. If anything in your home is making a "weird noise" or doesn't seem to be functioning properly, you should probably get it checked out and repaired before listing. If not, you absolutely need to disclose any potential issues to buyers.
6. I don't need to pay for a pre-sale home inspection! Remember that weird noise your refrigerator has been making? Or that draft you think you sometimes feel when you walk into your rarely-used guest room? You don't want to be surprised by hidden costs that arise when a potential buyer brings in their own home inspector. Hit those costs head-on by hiring an inspector to thoroughly review your home before it hits the market.
7. Everyone loves my dog! Wrong. You may have the cutest, most-friendly four-legged family member on the planet; but, you've got to realize that not everyone is a dog (or cat) person. When your home is on the market, you've got to take Fido or Fluffy with you when you vacate the house for a showing or open house.
8. My family photos won't scare off buyers. Prospective buyers are trying to envision themselves living in your home. So, don't remind them that your home is not theirs by leaving family photos or other personal affects adorning the walls. Keep décor stylish, but simple, when your home is on the market.
9. Buyers said "no" because of that?! It could be your choice in paint colors, flooring options or any other miniscule aspect of your home's décor or design. Buyers may find any reason imaginable to pass on your home and you've got to be prepared to face a little feedback about some of the style choices you've chosen. Thicken that skin before listing your home.
10. Do I even need a real estate agent? For every reason that we just listed (and a few more)… yes, yes… and, yes! You'll want to rely on your real estate agent's expertise when it comes to these thoughts and many others when you're selling your home.