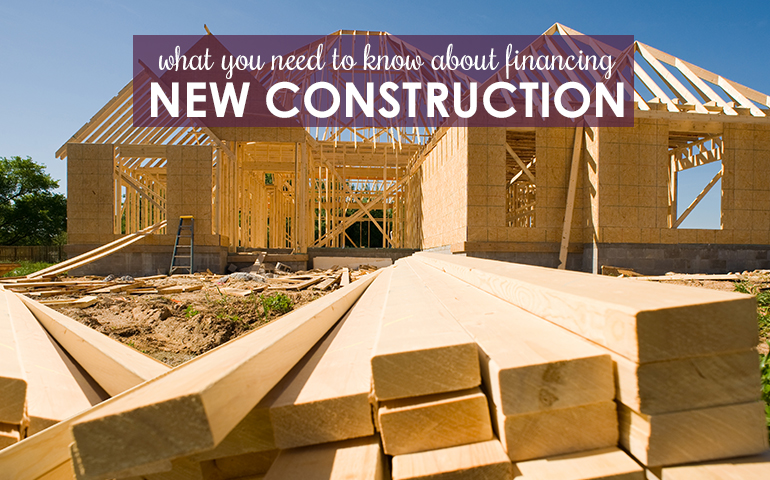 10 Things You Should Know About New Construction Loans
If you're considering buying a home, you've likely considered the mortgage process. But what if you're considering building a new home, instead of buying from a seller? Can you automatically go about the mortgage approval process in the same way? Well, sometimes.
New construction loans can be obtained by a home builder or buyer. If you're building a home with a large builder, you may not notice a difference in your mortgage process. However, if you decide to pursue your own construction loan, there are some things you should know.
Here are 10 differentiators about obtaining a new construction loan:
1. Lenders may not always advertise construction loans. Because they are more high-risk investments, lenders may not advertise construction loans as much as they promote more traditional mortgages. What does that mean for you? You may have to do some research with your own bank or credit union to find the right lender.
2. Construction loans are usually short term. Because the home construction process typically lasts several months, construction loans are not structured to last more than a year or so.
3. You may still need to save for a down payment. As we've mentioned, new construction loans are short term, so they are higher risk. For this reason, lenders may require borrowers to put more money down up front. Do not be surprised if your lender wants you to pay 20% of the project cost up front.
4. Buyers often pay interest only during construction. You may pay a heftier down payment for a new construction home, but because construction loans are short-term agreements, lenders often only require buyers to pay interest while their home is being built.
5. Those interest rates may vary. Rates on new construction loans are usually higher than traditional mortgages. Interest rates may vary with a lender's prime rate and could fluctuate during the payback period.
6. Lenders may require additional information before approval. In addition to typical financial information submitted when applying for a mortgage, new construction lenders may want to see a project timetable and budget before they give the OK on a loan.
7. Lenders may check in on construction progress. Because lenders are interested in the length of time it may take to build a new home, they also may check in on construction progress from time to time. This is why it is a good idea to build time in for construction delays when you submit a timetable to your lender.
8. Lenders may want proof you can pay for extras. During the home-building process, buyers may decide they want to make changes from the original design plans. But, those extras cost extra money, of course. Before lenders are willing to let you borrow money, they may want to make sure you have enough saved up to pay for any extras that come up during your build process.
9. New construction loans may roll into a traditional mortgage. This type of new construction loan is called a construction-to-permanent loan. When you're seeking a new construction loan, know that you may roll your loan into a traditional 15–30-year mortgage. So, while it may feel like a higher risk, you can feel confident in moving forward with a lender you trust.
10. A change in your financial situation could affect final mortgage approval. Similar to the process for obtaining a traditional mortgage, any major changes to your financial situation could affect the possibility of rolling a new construction loan into a traditional mortgage. So, while you're building, keep your credit, career and finances in order to ensure smooth sailing when it comes to your home loan.
This post is sponsored by PA Preferred Mortgage:
Pennsylvania Preferred Mortgage is a full-service mortgage banker and is a member of the Prosperity Home Mortgage, LLC family. Specializing in residential and refinance loans, Pennsylvania Preferred Mortgage offers a wide range of mortgage products, including fixed and adjustable rate mortgages, jumbo loans, Federal Housing Administration (FHA) and Veterans Affairs (VA) loans, and renovation financing. Learn more at www.papreferredmortgage.com.