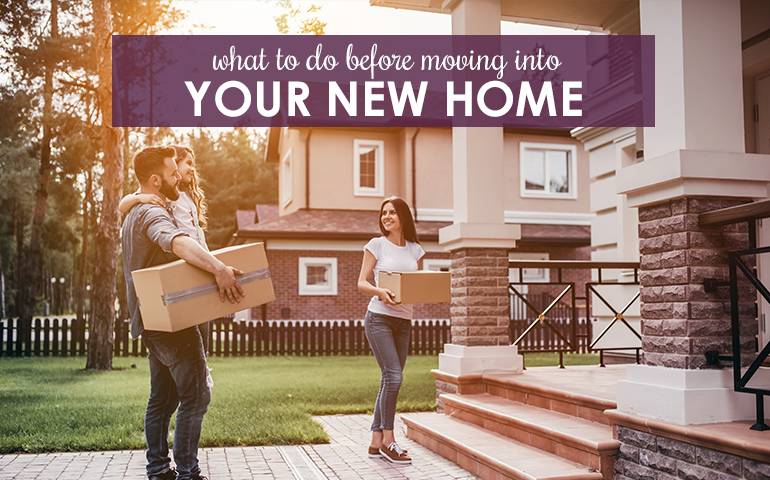 10 Things You Must Do Before Moving Into a New Home
As if the summer season isn't busy enough, typically full of backyard gatherings, baseball games, vacations and many more activities—can you imagine adding a major move into that mix? There are many people who, despite that on-the-go nature of summer, also move into a new home during these next few months.

So, in addition to all the fun events that are filling up summer calendars, home buyers are doing a little more planning during this time of year. If you're buying a new home this summer, here are 10 things you must do before moving:

1. Make a budget. Before you establish a moving date, you need to determine how much you can spend on a move. Do you plan to hire a moving company or enlist the help of friends and family members to get you into your new space? Get some estimates and take into account the cost of boxes and other supplies you'll need.

2. Set a date and reserve help. When you're planning your moving budget, you'll likely research several moving companies. If you decide to go with one, choose a company with a good reputation and establish a moving date. Note that choosing to move during the week may save you a little money when it comes to professional movers.

3. Get a blueprint of your new home. When you're buying a home, you'll likely measure the rooms to make sure your furniture will fit. But, when you're planning to move, you can never be too careful. Measure the rooms in your new home again, and also re-measure your furniture. You won't want any unpleasant surprises on move-in day.

4. Label moving boxes. As you're packing up to move, keep a permanent marker on hand. When you fill one box, label it with the room it belongs to in your new home. That way, no matter who is helping you move, your things will easily find their way into the proper places.

5. Transfer your utilities. The last thing you want to do when you move into a new home is find out that you either have no electric, gas or water—or, find out that you're paying for these utilities in both your old and new homes! Before you move, make sure you transfer your utilities to your new location.

6. Change your address. Utilities are not the only bills that will require a change of address form. You'll also need to make your move legitimate through the postal service. Submit a form online to ensure your mail makes it to your new home.

7. Get familiar with local amenities. It is a lot easier to find the schools, grocery stores, dry cleaners and other amenities you'll want before you're trying to worry about unpacking your favorite things. While you're waiting for the closing process to complete, research your new neighborhood, so you feel at home when you move.

8. Pack an essentials bag for each member of your family. For you, this may include simply items you need for an overnight stay. But if you have children, this could include their favorite toys, stuffies, blankets or activity books. You want everyone to feel comfortable the first night in your new home—even if you don't have time to unpack.

9. Change the locks. Just before you move into your new home, be sure to switch the locks. Yes, it feels amazing to receive that new set of keys when you close, but you want to be sure you're the only person who has those keys. Switch the locks and prepare to enjoy your new home!

10. Meet new neighbors. Though you may think this could be a bit difficult as you're planning your move, you're likely to spend a lot of time in your new neighborhood as you're prepping for moving day. As you're completing inspections and other items on your way to close, be sure to reach out and say hello to any new neighbors you see. Once you're settled in, you'll feel more at home with a few friendly faces around.

Moving into a new home can be a difficult process, but with a little planning before move-in day, you can make the transition a bit easier. Get a great start by checking off these 10 must-dos before you move this summer!