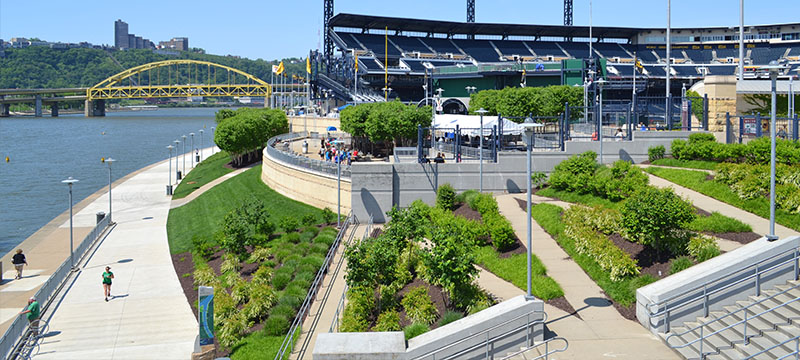 10 Things to Do in Pittsburgh This Summer
With all of the Stanley Cup excitement surrounding the city of Pittsburgh over the last few weeks, a lot of hockey fans have been showing an extra interest in our great city. But, you don't have to be a Pittsburgh Penguins fan (Seriously, how could you NOT be right now?!) to enjoy everything that Pittsburgh has to offer. We certainly can't deny that our city is full of champions, but here are 10 other fun things to do in Pittsburgh:
1. Catch a Game at PNC Park
We know, we said we weren't going to dwell on Pittsburgh sports, but PNC Park has been named one of the best ballparks in America. Whether you're a baseball fan or just a fan of some good food in a fun atmosphere, you've got to experience a night out at PNC Park!
2. Take a Ride Up Mount Washington
Pittsburgh is noted for its awesome skyline, so why not get a great view of that skyline by taking a historic ride up the Duquesne Incline? You can enjoy the view at top and then check out some of the Mount Washington's exquisite dining options!
3. Shop in the Strip District
Forget a trip to your local grocery store. For the freshest fruits, vegetables and even fish, hit up Pittsburgh's Strip District, where street vendors will wow you with an array of wares – from baked goods to ethnic foods to city memorabilia and more!
4. Get Wild at the Zoo
Or the aquarium… or the aviary! From polar bears and penguins to birds of all kinds, Pittsburgh's animal exhibits are out of this world… or at least, out of their natural habitat! Children of all ages love a visit to the zoo and Pittsburgh's got one of the best around!
5. Make a Splash at Sandcastle
Since summer's heat is blazing down, you're probably already looking for a way to stay cool. Sandcastle Water Park will be a big splash with the whole family! From a relaxing ride along the Lazy River to careening down 15 different water slides, Sandcastle is dripping with fun!
6. Ride Your Way through Kennywood
If water isn't your thing, but you're looking for a little thrill, Pittsburgh's legendary Kennywood Park is for you – just stay away from the Raging Rapids! It's been around for over 100 years, but stays at the forefront of fun with the latest roller coasters around. Oh yeah – and, you've got to try the Potato Patch fries; they're a must!
7. Tour the City
You get the point; you've got to see what's going on in Pittsburgh! But, you don't have to choose just one way to see it! You can get a great view of Pittsburgh via Segway, a Just Ducky tour or by cruising down the city's three rivers on the Gateway Clipper fleet!
8. Explore the Museums
All Pittsburgh fun doesn't happen outdoors. In fact, you could spend days touring through Pittsburgh's many museums. From natural history to art to science and more, Pittsburgh's museum scene is overflowing with entertaining, educational options.
9. See What's Brewing Around the City
Unless you've been hiding under a rock for the last decade or so, you've probably caught on to the microbrewery trend that's swept the nation. Know that it hasn't missed Pittsburgh, either. From Hop Farm in Lawrenceville to Hitchhiker in Mt. Lebanon, grab a growler and take a cab or Uber through a few of Pittsburgh's best breweries.
10. Increase Your Culture with a Show
Don't like brews? How about ballet? Pittsburgh's cultural district is filled with everything from Broadway shows to orchestra performances to comedians and more! The Benedum Center, Heinz Hall and the Byham Theatre are just a few of the historic venues in Pittsburgh.
We could continue our list of fun things to do in Pittsburgh until it's time to root for the Steelers in the fall; but, we've got an idea that these 10 fun options will have you entertained for at least that long! And, with that being said, we're going to get back into the Stanley Cup spirit – Let's go, Pens!