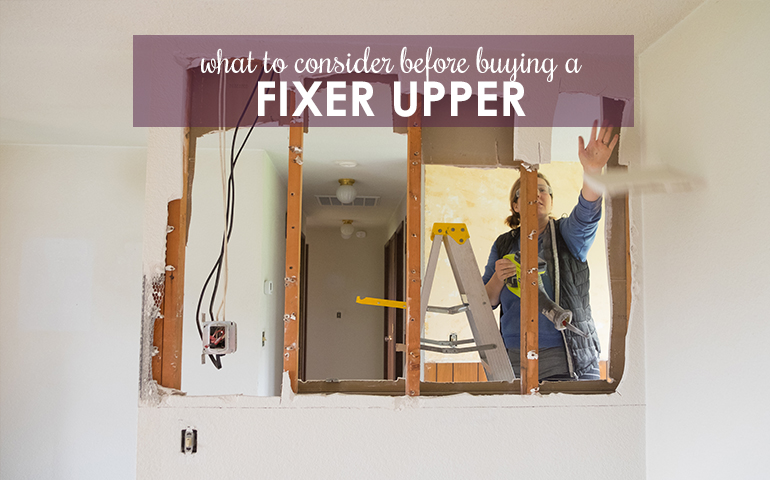 10 Things to Consider Before Buying a Fixer Upper This Spring
In the market for a fixer upper this spring? The experts on your favorite home improvement shows make it look so easy, right? You know, finding a home in less-than-savory condition and turning it into a dream in no time at all. But what happens when you want to buy a fixer upper in real life? Obviously, what you see on TV is not your everyday story when it comes to fixing up a home.
Taking on a home that needs some major work can cause major stress. But, if you've got your mind set on making a fixer upper your next home purchase, here are 10 things you should seriously consider to make sure you're prepared:
1. Budget
When it comes to a fixer upper, you need to determine how much you can afford to pay for the home. You also need to figure out how much you can afford to put into the home to fix it up. Finally, you need to account for the inevitable extra expenses that will come with buying a home that needs some work. How much can you afford to go over your projected budget?
2. Timeframe
Unlike a traditional home purchase where you probably plan to instantly move in, buying a fixer upper may mean that you've made arrangements to stay somewhere else while you're making renovations. If not, you need to decide how long you're willing to live in a home that's under construction.
3. Relationship Strain
Because buying a fixer upper can put a strain on your finances or have you living in a home that's under construction, it is important to consider how these aspects could affect your relationship with your spouse or any other family members living with you. Buying a home is stressful enough, but buying a fixer upper can present additional challenges.
4. Location
Like any home purchase, location should be a key factor in where you search for a fixer upper. To ensure a greater return on your investment, you'll want to choose a fixer upper that is located in a safe neighborhood where homes are well maintained.
5. Layout
Though there are many things you can change about a fixer upper, the home's layout is not something you can really "fix." Look for a home that flows naturally, but needs a little love when it comes to upgrades and décor.
6. Bedrooms and Bathrooms
Similar to a home's layout that may not be able to easily change, adding extra bedrooms and bathrooms to a fixer upper could be more of a headache than you'd like to have. Find a fixer upper that includes an ideal number of bedrooms and bathrooms for your family. Don't sacrifice on this need when it comes to the home you want.
7. Overall Condition
You may think this would be the first thing you'd consider in a potential fixer upper, but you may also be surprised by how a home with all the features you want could sway you from considering some major structural flaws. Once you've found a home that fits your wants and needs, be sure to look at the bigger picture – you know, the home's structure and major systems. If they're not in check, your other needs and wants may not carry so much weight in the home.
8. Inspections
Of course, you're not going to scour a home's structure by yourself. Complete a thorough home inspection before signing off on any fixer upper. But, don't just settle for a typical inspection. Consider hiring someone who works with older homes or who has a special certification to inspect a home for pests—you'll want as few surprises as possible when it comes to a fixer upper.
9. Your DIY Skills
It may go without saying that you'll need to do some work on a fixer upper. But, how much work are you capable of completing yourself? Refinishing floors and painting walls may be easy enough for you, but could you make roofing repairs or remodel a kitchen? Consider your limits when it comes to this major DIY project—then decide what you can afford to pay for in professional help!
10. Help
And, we're not just talking about the inspectors and contractors here. When you decide to purchase a home that is a fixer upper, look for a real estate professional who has some experience with these types of transactions. With a knowledgeable real estate agent on your side, buying a fixer upper will be a much smoother process.