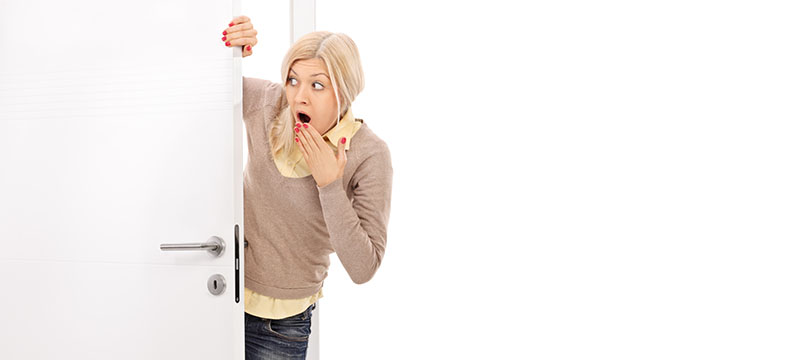 Sellers, Here's the Dirt on 10 Things Buyers Don't Want to See
So, you've hired a real estate agent and listed your home for sale; you're confident you set the right price and have properly marketed the home to targeted buyers; you've even got some showings scheduled. You're on your way to making a sale, right? Well, hopefully.
Even if you've got those preliminary sales steps in place, you may still be turning off home buyers that decide to see your home for themselves. When your home is for sale, there really is no time to sit idly by and wait for the right buyer to make an offer. You've got to make your home as appealing as possible throughout the entire sales process.
How can you make sure your home stands out from the rest in a competitive market? Avoid these 10 things that buyers definitely do not want to see when they walk into your home:
1. Non-existent Curb Appeal: Interested in turning buyers away before they walk in? That's what poorly-manicured curb appeal can do. Exterior signs of disarray only give buyers the inkling that what's inside may be worse. During the home sale process, keep your lawn and landscaping properly manicured. And, this goes for your sidewalks, driveway, siding and front door, too!
2. Dirt: Crumbs on countertops; grime around sinks; those little bits of Play-Doh that your children have so lovingly lodged into the carpet - all of that dirt needs to be a distant memory whenever prospective buyers tour your home. It's true; you may need to be on a military-style cleaning regimen until you reach closing day, but when you finally hand over those keys, you'll be glad you were so diligent.
3. Clutter: Though not necessarily dirty items, stacks of newspapers or unopened mail on the countertops, piles of unfolded laundry on closet floors or an overabundance of knick-knacks lining your end tables are just unappealing. Even if you're not the most organized person all of the time, when your home is on the market, you've got to step your game up to show buyers all the best, uncluttered features of your home – you know, adequate counter space, spacious closets and… well, just generally stylish decor! Remove clutter before buyers come by.
4. Signs of Pets: You may be a pet lover, but you can bet that not all prospective home buyers share those notions. When it comes to Fido and Fluffy, make sure their sights and scents are removed from the floors and furniture before you welcome prospective buyers to your home.
5. Smoking Residue: If you thought that buyers would be turned off by signs of your four-legged family members, how do you think they'll feel about your smoking habit?! From ash trays to stains to the lingering smells that smoking leaves behind, you've got to rid your for-sale home of any signs of this dirty habit… and fast!
6. Outdated Items: Unless a home buyer is interested in a fixer-upper, they're looking for a home they can comfortably move right into. So, outdated fixtures, appliances, ceilings, carpets or other areas are sure to turn buyers off. When it comes to a new home, many buyers are looking to lessen their to-do lists at move-in. So, sellers, update where you can to draw buyers in!
7. Deteriorating Things: This goes hand-in-hand with outdated items. If your carpets, walls or ceilings are showing signs of age, i.e. stains, damp patches and loose fibers, you've got to replace them before welcoming buyers to your home. If you don't, buyers may only see more work they've got to do when moving in.
8. Personal Items: We know you treasure that old family photo of you and Aunt Ida, but during your home sale process, how about replacing it with some contemporary art? Your treasured belongings should remain yours. Allow prospective home buyers to envision their own things filling the space you're trying to sell.
9. Poor Lighting: Even if you've made your home décor as appealing and impersonal as possible, if buyers are unable to see that beauty, then you've still got a problem! Replace light bulbs with brighter ones, open all curtains and blinds and let in as much light as possible when your home is on the market. More light not only makes your home look better, it also makes it look bigger, which are two big perks for buyers.
10. YOU: You've probably gathered that home buyers want no signs of the previous home owner in the home they are considering buying. So, by all means, when you have a showing, get out! You may think you are the best person to answer any questions about your home; but, frankly, home buyers do not want to connect your personal attachment with their potential future home.
If you've got a feeling that you need to be on your toes about your home's appearance while it is listed on the market, then you're already one step ahead of other home sellers. Eliminate the things buyers do not want to see when they walk into your home and you may see your way to the closing table much more quickly!
For some advice on how to make your home the most appealing during the home sale process, contact a real estate agent today!