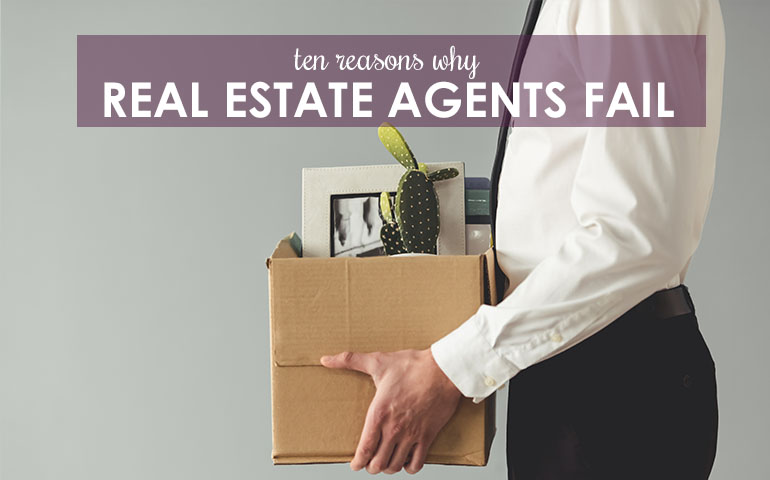 Can You Make the Grade? 10 Reasons Real Estate Agents Fail
Many students are still getting back into the swing of things this fall semester, but we're ready to hand out some grades—and, failing ones at that! It may sound harsh, but today we're taking a look at some of the reasons that agents just don't make the grade in the real estate industry.
Here are 10 of the top reasons that real estate agents fail:
1. They don't prospect. When you first start out as a real estate agent, it can be difficult to get comfortable reaching out to prospective clients. Though you may not instantly feel at ease on the phone, it is something you've got to do to build your client base. Set aside time to reach out to prospective clients each day.
2. They don't follow up. Once you've built up your client base, maintain it! Real estate agents that don't take the time to follow up with their clients don't keep their clients; it is as simple as that. When someone is making a major sale or purchase, they want to know they've got the support of their trusted real estate agent. Show your clients you're there for them by following up!
3. They don't do nights and weekends. Frankly, it is simply not convenient for most prospective buyers to search for homes from the hours of 9 a.m. to 5 p.m. Monday through Friday. Real estate agents need to be flexible enough to put in hours on nights and weekends. Showings and open houses just don't always happen during regular business hours.
4. They don't play well with others. When it comes to making home sale, several parties are involved. If a real estate agent can't work well with other agents, lenders, inspectors, appraisers or service professionals, they will have a hard time finding lasting success.
5. They let one bad experience ruin them. When you work in real estate, you're going to hear the word "no." Some people will not want to work with you. Some sellers will not accept your buyers' offers. Some buyers may not even be interested in seeing a home you've listed. You may hear "no," but it only takes one "yes" to get your real estate business going!
6. They don't work or live in their sphere. While one "yes" may help you get going, it is not going to sustain your business for long. Instead of focusing on all the things you'll be able to buy when you sell X number of homes, change your mindset to meet your current lifestyle. When you're not feeling the added pressures of purchases you want or "need" to make, you'll have an easier time focusing on your career.
7. They don't invest in marketing. From social media to signs in a front yard, there are so many ways to market yourself in today's real estate industry. With all of those options, it is imperative that real estate agents make a little investment in getting their name—and their listings—out there.
8. They are not flexible. When you're a real estate agent, you've got to be able to work from anywhere. That means when you have 9 a.m. and 12 p.m. showings, you've got what you need with you to stop anywhere with Wi-Fi to complete a few administrative tasks in between.
9. They don't have a plan. It is hard to work toward something when you don't know what that something is. Unless a real estate agent sets clear, achievable goals, it is easy to get sidetracked on the road to success. Work with an experienced agent to set attainable goals when you're first getting started.
10. They simply don't believe they can succeed. After reading all of these reasons that real estate agents fail, you may be feeling more insecure than ever. But, don't! Believing in yourself and your ability to achieve success may be half of the battle when it comes to succeeding in real estate.
At Berkshire Hathaway HomeServices The Preferred Realty, we are excited to help our real estate professionals succeed. Take the next step toward a successful career in real estate by contacting our office today.