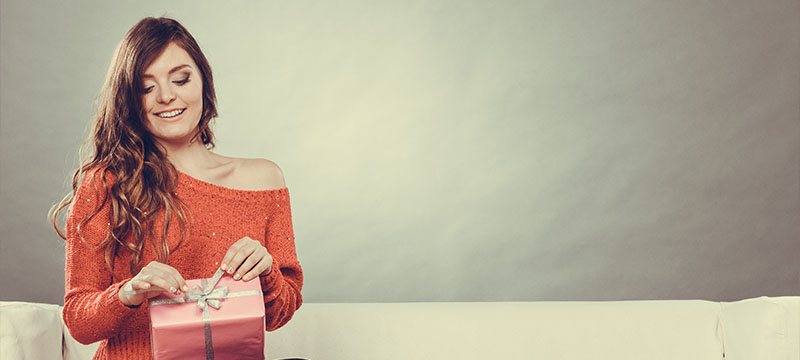 10 Housewarming Gifts that Take No Warming Up To
OK, we're just going to be frank here from the start. When you move into a new home, after you've unpacked every last box of out-of-season clothes, family "heirlooms" you can't bring yourself to throw away (like that framed high school soccer poster of yourself that your mom just needed you to hang on to) and other random knick-knacks you forgot you even owned, the last thing you want to do is find a space for a nice-gestured, but less-than-useful housewarming gift.
If you've got friends or family that recently have moved or you'd like to welcome that new neighbor down the street, here are a few housewarming gift ideas that the happy new homeowners will be pleasantly pleased to receive:
A Custom Address Stamp – This housewarming gift is always a winner for a number of reasons: 1. No one likes filling out envelopes. 2. Many people may feel guilty accepting the free address labels that come in the mail if they don't actually donate to the worthy causes that send them. 3. New homeowners are going to want to send "thank you" notes for their housewarming gifts… duh!

A Seasonal Welcome Mat – This housewarming gift is a no-brainer when it comes to placement. Pick a seasonal design, have one customized with their name or initials or get really crafty and make one yourself! They'll never wipe away the memory of your great gift!

A Set of Coasters – Similar to a welcome mat, you never can have too many sets of coasters. From holiday entertaining to a back-yard BBQ or just that evening glass of wine, a thoughtful set of personalized, humorous or other unique coasters are an inexpensive, yet tasteful, way to say "welcome!"

An Assortment of Standard Tools – Not only do you vitally need tools like hammers, screwdrivers, tape measures and extension cords when you're in the midst of a move, but you need them all the time! Unfortunately, because they're so necessary, those "must-haves" always seem to disappear or never be in the same place that "you're sure you left them!" Pick one new tool or create a basket full of your favorites. This way, you'll even know where to go when you lose one of your own!

A Portable Bluetooth Speaker – Sometimes, after moving into a new place, it can take quite a while to get things like the cable and internet set up. Those service providers just always seem to be booked weeks in advance! Help new homeowners to eliminate those eerie sounds of silence by presenting them with a portable Bluetooth speaker. There are plenty of inexpensive options that can be the perfect companions for the deck, the basement or even the bathroom!

An Enhanced Wall Outlet – It's hard enough to find your mobile device chargers when you haven't just moved into a new home. Give new homeowners a gift they never knew they needed, but one that they won't be able to live without: a wall outlet with USB charging ports! This way, they'll be able to stay connected all over their new home.

Anything Home-Baked – If your first thought was to bring over a pizza to welcome your favorite new homeowners, think again. They've probably had their fill of takeout food during their move process. Instead, give them a dish (literally, you could put it in a personalized dish just for them) that they'll never forget. Help them remember your name by including a "From the Kitchen of YOUR NAME HERE" recipe card with your home-baked creation, too!

A Starter Spice Kit – Do you remember what it was like to take that first trip to the grocery store after moving into your new place? Probably not, because you've blocked that filthy-high receipt from your memory! Don't subject your new neighbors to that feeling! Instead, welcome them home by starting off their spice rack for them. Then, they'll surely have the "thyme" to get to know you!

Tasting Plates that Hold Wine Glasses – Why? Because they're going to need one hand to shake each new neighbor's hand at their housewarming party anyway! Why make them also put their food and drink down to do so? For that matter, they're sure to offer you a glass of wine and a snack while you're there, too. Make it easier on yourself as well!

A Bottle Opener – Many people love to give a bottle of wine to new homeowners, but most bottles of wine don't open themselves! Help your recently-moved-in friends, family members or neighbors enjoy all of those new-neighbor bottles by investing in a trusty bottle opener for them!
Now, don't get us a wrong, that token bottle of wine would go along nicely with any item on our unconventional housewarming gift list. But, if you're looking for something out-of-the-ordinary that is sure to leave an extraordinary impression, consider one of these 10 housewarming gift ideas for new homeowners today!