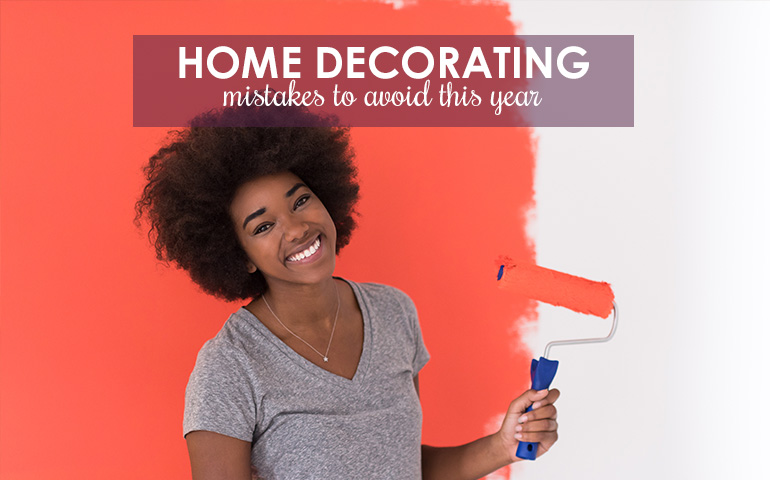 10 Home Decorating Mistakes to Avoid
Maybe it's because your team didn't make it to the big game. Maybe it's the unseasonably warm weather. Maybe you've just got that home-decorating itch. If you've found yourself recently evaluating your home décor—and trying to make some stylish upgrades—we've got some great tips for you.
If you're in the midst of updates at your home, here are 10 home decorating mistakes you'll want to make sure to avoid—or possibly correct if you find yourself guilty of committing these home décor faux pas:
1. Putting the paint first. Painting is an easy way to give your home a new look in a hurry. But, you don't want to rush when you're selecting the perfect colors. In fact, paint is such an easy thing to change that you may be better off deciding what kind of furniture you'd like to fill a space with before you begin to add a splash of paint.
2. Pushing your furniture against the walls. When it comes to your family room or living room, it is only natural that you would want to maximize your space. However, you shouldn't necessarily do so at the expense of your walls. Instead of just pushing your furniture to each wall, create a comfy space where your and your guests can easily conversate.
3. Not measuring before you bring furniture home. You don't want to push your furniture against the walls, but you do want it to comfortably fit in the space where you envision it. Make sure that happens by measuring each piece before you buy it!
4. Choosing an area rug that is too small. Once you've got your furniture where you want it, you should make sure that your area rug adequately fits underneath it. While all legs of your furniture do not need to be on your area rug, parts of each piece should be underneath.
5. Selecting curtains that are too short. Just as you don't want your rug to be too small, you don't want your curtains dangling over your floor either. If your curtains are too short, your walls will look even shorter!
6. Thinking clutter is chic. You may love all your travel knick knacks or you may frequently need all of your children's sports equipment. However, displaying those items all over your home does not count as contemporary décor. But, you know what would? Some stylish storage solutions!
7. Letting your accent pillows take over. Given our last tip about clutter, you may already know where this mistake is going. Accent pillows are a great way to add color to an otherwise neutral palette, but you've got to know when to say "no more." You don't want to be moving pillows off your furniture in order to sit down.
8. Decorating with too many photos. Just as too many pillows can overshadow your décor, so can too many photos. Family photos are a great way to add a personal touch to your home, but there can be too much of a good thing when it comes to showcasing your favorite photos.
9. Not having houseplants. What you remove in family photos, you can replace with easy-to-care-for houseplants! Not only will live plants bring some color into your home, they'll also bring some life! You'll even breathe easier because of beautiful live accents!
10. Not personalizing your own space. You can take all the tips that are trending this year, but if you leave your own personal tastes out of the mix, you could be making a big mistake! Remember, your home is yours. It should reflect a piece of you!