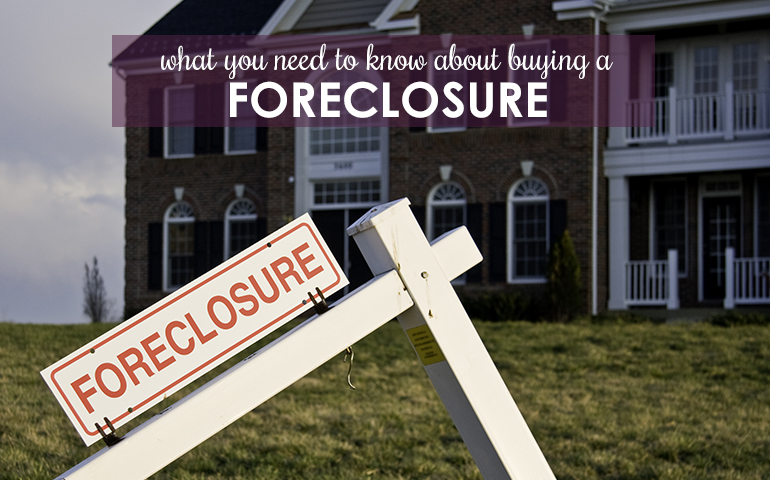 10 Facts You Should Know About Buying a Foreclosure
For many homebuyers, the word "foreclosure" can be a major forewarning when it comes to making a home purchase. In today's real estate market, foreclosures are less common to come by. Therefore, buyers may be inclined to shy away from an otherwise wonderful home, just because it is listed as a foreclosure.
If you're interested in a home that is being marketed as a foreclosure, here are 10 things you should know:

1. What is a foreclosure?
Often times, people have a fear of the unknown, so understand what a foreclosure really means. A foreclosed home is one that a lender takes possession of and sells when a mortgagor cannot pay back a home loan.

2. You're going to need preapproval.
Because of the circumstances of the sale, it only makes sense that a lender will want some proof that a buyer can afford the foreclosed home that is for sale. If a lender loses out once, they certainly are going to want to protect themselves as much as possible the next time around.

3. Or you could pay in full.
In some cases, a foreclosed home will go to an auction, where buyers can bid. In this case, buyers are expected to pay for a foreclosed home in full. And, no, that does not include the cost of any needed maintenance, repairs or renovations.

4. You may get a really great deal.
Because lenders are eager to sell foreclosed properties and want to recoup any losses they've incurred—as soon as possible—many foreclosed homes sell for less than market value. For buyers, that means a great deal on a home that could have been out of their initial price range.

5. But, you're probably not going to be able to negotiate.
Unlike conventional home sales, where buyers are free to negotiate the price of any repairs they deem necessary, banks are far less eager to negotiate on the price of a foreclosed home. In fact, since foreclosures are typically sold under market value, offering less than asking price could prevent a buyer from even being taken seriously when it comes to a foreclosed home.

6. And, the home is sold "as is."
When you're buying a foreclosed home, what you see is what you get. In that same case, what you may not be able to see is what you're going to get. If a foreclosed home has been vacant or damaged during the foreclosure process, prospective buyers are responsible for paying to make any needed repairs.

7. So, you cannot skip the home inspection.
Not only should you not skip out on a home inspection when it comes to a foreclosed home, it may be beneficial to bring in specialized inspectors. Consider issues like pests, mold, asbestos or structural problems when scouring over a foreclosed property.

8. And, you've got to investigate further burdens, too.
Not only do you need to investigate a foreclosed home for property damage, but you also need to make sure it does not come with financial devastation. When you purchase a foreclosure, you could be taking on unpaid taxes or other loans that come with the property.

9. But, you may have a shorter closing process.
If a foreclosed home comes off pretty clean—structurally and financially—you may be in the clear, and in a much shorter time period than a conventional home sale. Foreclosed homes are typically vacant, which means the closing process goes by much faster.

10. Finally, you could make a lot off your investment in the long run.
If you do find a foreclosed home for a great price, and you don't have to spend too much time or money to make the home meet your standards, you could be looking at a great investment. Foreclosed homes tend to accrue value very quickly. So, you could be purchasing a home with some built-in equity!

If you have an interest in a foreclosed property, let us help! Contact an experienced real estate professional at Berkshire Hathaway HomeServices The Preferred Realty to get your home-buying process started today.