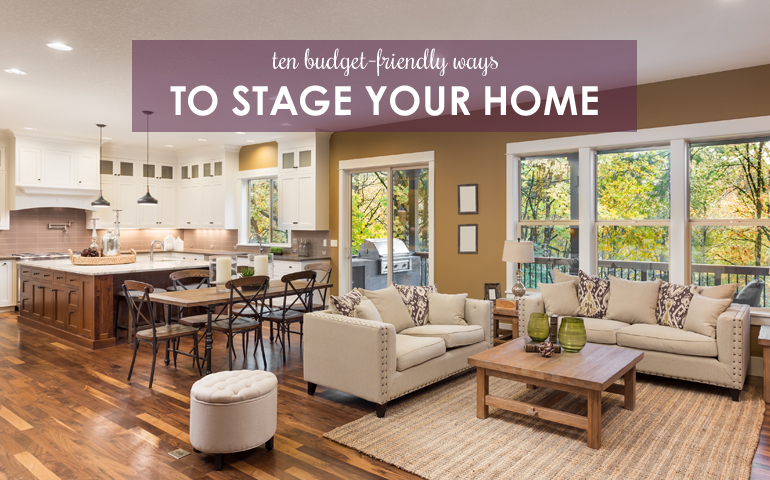 10 Budget-Friendly Ways to Stage Your Home
When you're ready to sell your home, the last thing you want to do is spend a lot of money on it, right? But you need to make sure that your home will be appealing to prospective buyers. Is there a way to give your home an edge over others on the market without breaking the bank? You bet!

Here are 10 budget-friendly ways to stage your home before you sell:

1. Paint with neutral colors
Fresh paint is an easy and relatively inexpensive way to give your home a new look. By using neutral colors, you can allow prospective buyers to envision your home as a blank palette where they can begin to create.

2. Remove personal belongings and family photos
To truly allow prospective buyers to see themselves in your home, you should pack away family photos and personal memorabilia. Remember, these things may make you feel at home, but taking them away is an inexpensive way to help buyers envision making their own memories there.

3. Clean out rooms and closets
A great way to make your home seem bigger is by removing some of the things that are filling it up. Think about removing half of your belongings from your bedrooms and closets. Use this as an opportunity to declutter and donate some items while packing. Or, consider renting a storage unit for extra items while your house is on the market.

4. Focus on the front door
You can make your home pop on a budget by freshening up your front door. Repaint and add a bit of seasonal décor to make your home stand out to buyers. Adding a few pots of fresh flowers could be a nice touch too.

5. Hire professional cleaners
If you're feeling overwhelmed with all the tasks associated with getting your home on the market, enlist the help of professional cleaners to give you a good start. You won't have to retain their services throughout the length of your sale, but having help from the start can give you a baseline for keeping your home clean.

6. Open the floor plan
Add appeal to your home by making it easier to tour through. Create a more spacious floor plan by removing some pieces of furniture throughout your home. The space will look cleaner and larger.

7. Open curtains and blinds
Sometimes you can give your home an extra edge by just adding a little light. When you know buyers may be touring through your home, be sure that all curtains and blinds are open. Letting in more light is sure to give your home instant appeal.

8. Replace light bulbs
Speaking of adding more light to your home, do a quick inspection of all light bulbs to make sure your home is as bright as possible. Replace any bulbs that are not working and utilize the extra lighting to make your home more attractive.

9. Clear the kitchen counters
Extra items like a toaster or coffee pot could be daily necessities in your home, but to some buyers, they could just be taking up usable counter space. While your home is on the market, keep these items stored in cabinets or a pantry. This is a great way to make your kitchen look a bit bigger too.

10. Use each room as it is intended
If you've turned a spare bedroom into a playroom or home office, consider converting it back while your home is on the market. Seeing an extra bedroom in a home could be a difference-maker for some buyers.

You don't have to spend a lot of money to make your home more appealing. If you're feeling overwhelmed as you prepare your home for sale, give a few of these simple staging tips a try!