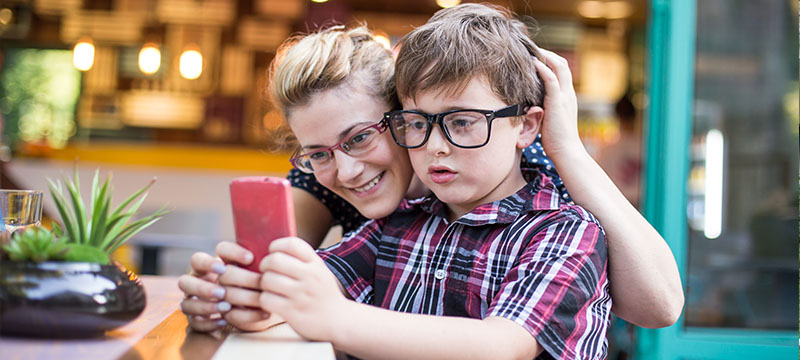 Take Note of 10 Must-have Back-to-School Apps!
As we tearfully say goodbye to the lazy days of summer, we're eagerly looking forward to an app-solutely awesome new school year! That's right; thanks to some of the hottest technology out there, even the most unorganized, busiest families can keep it together in a budget-friendly, stylish way! Ready to hit the books on the back-to-school season's hottest helpers?
Here are 10 of our favorite apps for finding that work-life balance for the school year:
1. Hub
When the school year gets going, it's off to practice and other after-school activities and that doesn't even include Mom or Dad's evening meetings or appointments. The Hub app allows every family member to stay connected by sharing calendars, assigning tasks, creating lists and posting notes. It's like your family's own personal social network and so much more!
2. Inby
Though you may already have stocked up on most of what your family needs for back-to-school season, the Inby app will help you save all year long by tracking sales and promotions. From school clothes and shoes to books, supplies and more, Inby will help you find everything you need at places that range from retail giants to your local neighborhood market!
Who's ready to get back into that school-year wake-up routine? With the Wake Alarm Clock app, it is a little easier to get up and go! The app will help you rise and shine in a more upbeat, alert way. It's even intuitive enough to give heavy sleepers the extra boost they need to get their day off to a great start!
We all know what picky eaters kids can be, so why not involve them in the lunch-packing process? The LaLa Lunchbox app uses kid-friendly monsters and technology to help children choose nutritious lunch options that parents can instantly add to their grocery shopping lists.
5. Waze
The start of the school year signals the return of major school traffic on your morning and afternoon commutes. The Waze app is a must-have to help you navigate your way and avoid those traffic jams that are bound to make you late for morning meetings.
6. SignEasy
Oh no! You forgot to sign Johnny's permission slip to go on today's school field trip! Thanks to the SignEasy app, you won't have to disrupt your work day and he won't have to sit out, either. This app allows you to sign documents straight from your smartphone or desktop.
7. Evernote
Whether you're taking notes at a morning meeting, during a night class or anytime in between, the Evernote app will show you the organization that your pen and paper could only dream of! The app organizes notes into lists and allows users to add images, too, making everything easy to access when it's time to review. You can even share your notes with family members!
8. Seamless
While you were busy getting all of the kids and yourself out the door this morning, you may not have remembered nor had time to prep dinner for the evening. Instead of rushing around to throw something together when you get home, the Seamless app lets you find, order and have your favorite food delivered, so that dinner is served when you get home!
9. MedHelper
When everyone in the family is on the go, it can be difficult to remember to take care of ourselves! We also know that with school season comes the cold and flu season. Enter the MedHelper app, a personal healthcare assistant that helps you stay up-to-date on medical appointments, prescriptions and more!
10. Caribu
Well, this might just be the cutest way to tuck young kids in when work, sports or other after-school activities keep you out past their bedtime. The Caribu app combines video calling and favorite story books into an unforgettable bedtime routine. No matter what distance may separate you and your children, you all can be together at the end of the day!
Here's to a tech-savvy start to another great school year!