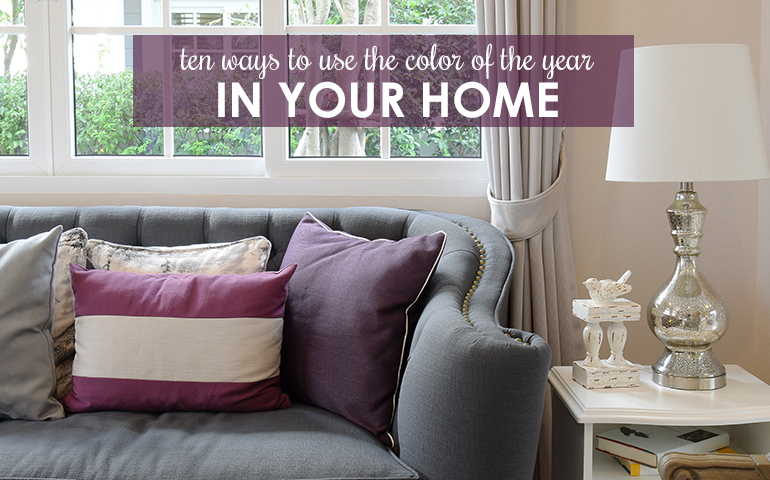 10 Ways to Use Pantone's Color of the Year in Your Home
By now, you've probably seen that bright ultra violet hue that Pantone has deemed 2018's color of the year. If that pretty purple has got you feeling a bit blue about decorating your home this year—and you're one that just loves to follow the trends—have no fear! Just because Pantone has deemed ultra violet as the color of the year does not mean that you have to incorporate that vivacious color in every area of your home. However, you may just find that a little bit of that Pantone perfection may liven up your home decor more than you expected.
Here are 10 ways that Pantone's ultra violet can help your home shine in 2018:
1. Pair up that purple.
Instead of using Pantone's ultra violet exclusively in your home, pair that purple with other shades that you love. Patterns are in this year, so look for floral or geometric designs that include ultra violet with the pinks and blues that you may prefer. You could also be bold and add some black accents to those pops of purple.
2. Make it metallic. Since we've already suggested pairing up that ultra violet color, let us suggest doing so with some major metallics. Brass is in this year and just so happens to perfectly complement that violet hue. Just like the perfect piece of jewelry can accessorize any outfit, the perfect home accents will make ultra violet look ultra right in your home. Consider adding the color in your bathroom where you know you can add brass hardware.
3. See how it frames up. We've all got a stash of old photo frames that haven't been used in years. They may be gathering dust in your basement or closets. Give those frames new life by painting them in the Pantone color of the year! You'll adorn your walls with style—and if ultra violet never grows on you—you can just paint them in a new hue next year!
4. Let purple reign. Can't bear to paint over your frames? Why not frame a photo of the iconic musician that belted out "Purple Rain?" Even if you're not a Prince fan, there is a good chance you'll be able to find a piece of art that is more your taste and also happens to include that awesome ultra violet color.
5. Don't wine about it. Fan or not when it comes to Pantone's 2018 color choice, there is a good chance that you may like a wine that bears a similar color. Let your pop of Pantone's color shine through in your home's stemware. It'll be simply stated—and delicious!
6. Make a statement. If you've been looking for a statement piece of furniture, Pantone has given you a great reason to move forward with that purchase. Go all in and add an ultra violet chaise lounge to your bedroom or family room.
7. Peer at the purple. Still looking for a way to add ultra violet to your décor? Why not update your window treatments? Find contemporary options that include bright purple and accent your home with style.
8. Step up (and on!) your style. An easy, temporary way to add ultra violet décor into your home is to add an accent rug that includes the popping color. You can incorporate other colors and move or replace it once the color has lost its appeal.
9. Make violet vintage. You already know that hand-crafted, artisan pieces are in this year. Well, so are violent vintage pieces! Look for glass doorknobs, pitchers or other items that bear Pantone's chosen purple hue.
10. Start with a little personal purple style. Don't think your home is ready to bear any ultra violet décor just yet? Well, it's only January. Take a look in the mirror! Begin to embrace Pantone's ultra violet color by sporting a sweater, scarf or other attire that shows off the purple hue. When you feel ready, embrace ultra violet in your home too!